Parkside Financial Bank & Trust ("Parkside") congratulates Angie Ilko, Trust Advisor, on being named to the American Bankers Association's ("ABA") 2023 Under 40 in Wealth Management Class. The ABA awards recognize wealth management and fiduciary professionals who are committed to the highest standards of achievement at work and in their communities.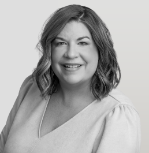 Angie Ilko is invested in the success of our clients and is passionate about serving them well. Her responsibilities include the day-to-day administration and management of trustee accounts in which Parkside is serving in a fiduciary capacity such as trustee, co-trustee, or executor. As a Certified Trust and Fiduciary Advisor, Angie is a valuable resource for our clients, ready to listen objectively, identify their needs, and provide the resources necessary to support their goals. Clients appreciate her responsiveness and high-touch personalized service, ensuring each one understands they are not a number to us - they are important.
A staunch advocate for our clients, Angie educates on how trusts work; helps create and implement budgets; explains the impact of distributions and withdrawals on long-term planning; and embraces open, consistent communication throughout the partnership.
Angie graduated from Loyola University Chicago with a Bachelor's in Business Administration and continued her education earning a Master of Business Administration degree from Webster University in 2013. She is a graduate of the Cannon Financial Trust School and obtained her Certified Trust and Fiduciary Advisor designation in 2019. Angie is a member of the Estate Planning Council of Saint Louis and sits on the Board of Directors for Safe Connections.
American Bankers Association Under 40 in Wealth Management Awards
A diverse steering committee of wealth and fiduciary professionals selected the winners, based on the criteria such as academic training, client relationship management skills, community service, dedication to the profession, inventiveness, leadership/management skills, personal integrity, public speaking/presentation skills, sustained career progress, technical skills, and commitment to work/life balance.
The recipients will be honored during ABA's 2023 Wealth Management and Trust Conference, which will be held February 27 - March 1, 2023 in Nashville, Tennessee.
American Bankers Association
The American Bankers Association is the voice of the nation's $23.6 trillion banking industry, which is composed of small, regional, and large banks that together employ more than 2 million people, safeguard $19.4 trillion in deposits, and extend $12 trillion in loans.
Parkside Financial Bank & Trust
Parkside Financial Bank & Trust is a privately-held institution with a uniquely fresh perspective on banking, commercial lending, trust, and family office services – one focused on creating unparalleled simplicity in today's increasingly complex financial environment.