After a challenging 2020, Parkside experienced an excellent first half of 2021.  Much of the COVID-19 related downside risk we discussed in previous newsletters has been mitigated, and we continue to experience better than expected returns in both the Commercial Banking and Trust & Family Office divisions. 
In addition, Parkside began a phased re-opening process in May and welcomed our full team back to the office on June 14th.  We are excited to continue serving our clients in-person and building uncommon partnerships. 


2nd Quarter Performance

Total assets of $743 million is a new all-time high, albeit, temporarily inflated by the deposits created from the PPP loans and other federal stimulus programs. There continues to be significant excess liquidity at Parkside and in the entire banking system.  Total client deposits reached an all-time high of $566 million at the end of the quarter. 
Both our recent loan growth and our loan pipeline are strong. Loans outstanding, net of PPP loans, grew $88 million to $476 million, up 23% from June 2020.  We anticipate some volatility in loan balances over the next several months as commercial loan volume increases and PPP borrowings are forgiven.  
TFO continues to grow due to both market performance and new client additions. Total wealth management assets reached $1.7 billion, an increase of $205 million, or 14%, from June of 2020. 
As we continue to navigate the evolving economic environment, our balance sheet has never been stronger.  We will take advantage of that strength and continue growing our client base and revenue stream, building long-term value for our shareholders.  

Our Growing Team
We continue to invest in growing our team. Parkside most recently welcomed these exceptional team members! 

Cindy Cook - Loan Documentation Specialist
Cindy joined our team in June.  She spent the past five years as a Consumer/Commercial Documenter and Processer.  She offers an additional 14 years of experience as a Credit Anaylst and Loan Underwriter.  

Britni Gortner - Commercial Credit Analyst
Britni was a Parkside intern during the summer of 2020.  After earning a Bachelor's Degree in Finance from the University of Missouri, we were excited to welcome her as a full-time member of the commercial banking team in May.   

Kathryn Hillenburg - Bank Operations Specialist
Kathryn joined our team in July, offering a diverse background in customer service and bank operations, most recently supporting clients in a banking center of a local bank.

Curtis Searcy - President, Trust & Family Office
In June, Parkside welcomed Curtis Searcy, MBA, CFP® as President of our Trust & Family Office division. With more than 27 years of diverse financial services experience, most recently as Market Leader, Senior Vice President at U.S. Bank Private Wealth Management, Curtis will accelerate the division's growth by building a high-performing division, attracting top talent and supporting existing team members as they develop their skills and expertise.   
Dividend and Offer to Purchase Update 
As announced at our 2021 virtual Shareholder Meeting, a dividend of $0.95 per share of Parkside Financial, Inc. stock was paid on June 15th.   This is Parkside's 8th dividend payment and a $0.10 increase from our 2020 dividend. Checks were mailed directly to the address of record or to the custodian of record. If you have not received your check, please contact investorrelations@pfbt.com.  

We reinstated a share repurchase program in 2021, following a hiatus in 2020. This program helps improve liquidity for our shareholders as we stated we would do when we formed Parkside. This year we offered to repurchase up to 30,000 shares of our stock at $33.00 per share.  A total of 22,933 shares were tendered and repurchased on June 30th.  

Transactions for Parkside Financial, Inc. shares are negotiated throughout the year on BancList.com.  In the past year,  approximately 37,000 shares have been negotiated using this site.  Should you have any questions regarding BancList, please contact investorrelations@pfbt.com.


Summer Internship Program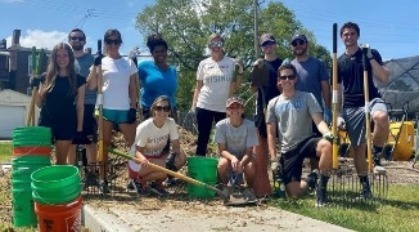 Parkside hosted four college students for a 10-week internship program designed to provide hands-on experience with Commercial Banking, Trust, Family Office and 401(k) as well as shadowing our customer service, finance and marketing teams.  The interns and their mentors also had the opportunity to give back during a community service afternoon at Rung for Women.  
On August 4th, they offered valuable "real world" tips as Parkside presented College Bound: Smart Financial Decisions for Your Next Chapter. Click here to learn more about this event.
We congratulate each of these students on a job well-done, thank them for their valuable contributions and wish each of them the best as they return to school this fall.  
2021 Top Workplace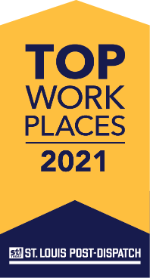 In June, Parkside was recognized by the St. Louis Post-Dispatch as a 2021 Top Workplace, an award we also received in 2019. We are particularly proud of this designation as it is based solely on employee feedback gathered through a third-party survey measuring several aspects of workplace culture.  We strive to treat each employee with the same resolute commitment to their well-being and success, just as we do our shareholders and clients.  After all, it's their expertise, passion and loyalty that truly make Parkside uncommon.  Click 
here
 to learn more about this recognition. 
We are looking for top talent!
Do you know someone who is a great match for our team? Click here to learn more about the available positions on both our Commercial Banking and Trust & Family Office teams.  We encourage you to share these opportunities with your contacts.  Should you have any questions regarding these positions, please contact Meredith Osborn, Director of Human Resources at mosborn@pfbt.com. 
As your financial partner, we are committed to ensuring our clients and shareholders receive the same uncommon service you always have.  We appreciate your continued support, and look forward to working with you as we navigate the year ahead.  
Should you have any questions or comments, please feel free to contact us.  Stay safe and healthy.