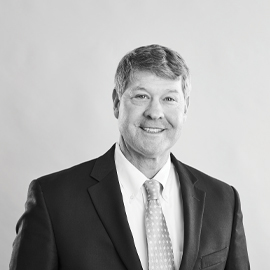 Senior Vice President
Director of Investments
Trust & Family Advisor
P/F  314.290.8642
C     314.378.4719
Biography
Ted McNulty helps our clients organize and manage their entire financial portfolio to achieve control, confidence and peace of mind.
As a Trust & Family Office Advisor, Ted nurtures a responsive and lasting financial partnership—one that is focused entirely on the best interest of our clients and their families. For our 401(k) clients, he is proactive in managing the education process, encouraging broad-based participation in the retirement plan benefits offered by their company.
Ted received a Bachelor of Science in Business Administration from the University of Tulsa. He offers more than 20 years of industry experience, first serving as a Registered Investment Advisor at Edward Jones, then as a portfolio manager at TIAA CREF and First Bank before joining Parkside in 2008. Ted is a Certified Financial Planner™ professional and leads our investment selection process as the Director of Investments.
Ted listens closely to our clients' challenges, such as mitigating taxes, paying for college tuition, achieving sufficient retirement income, balancing cash flow with spending habits and an overall lack of time to devote to financial management. He uses best-in-class research to provide a thorough, intelligent and unbiased perspective, guiding our clients to a successful future.