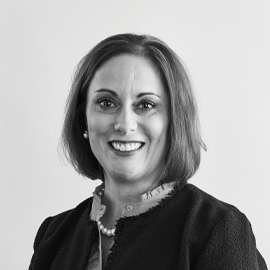 Kelly Richert, 
CFP®, CTFA, JD 
Executive Vice President
Trust Counsel
Trust & Family Office Advisor 
krichert@pfbt.com
P/F  314.290.8641
C     314.496.7067
Biography
Kelly Richert dedicates expertise and personal attention to ensure our clients' wealth advisory needs are not only met, but exceeded. She is responsible for the management of Parkside's corporate trustee services as well as supporting successful families in their investment, risk and estate planning needs.


Kelly collaborates with our team of trust professionals to provide administrative, investment, legal and accounting expertise. In addition, she uses financial planning tools to assist in the analysis of beneficiary requests, adding depth to the decisions that help all parties understand the impact of distributions. Parkside clients benefit from Kelly's keen attention to detail and strong technical background. Her insight and practical knowledge provide a holistic approach in helping to achieve financial success and preserve legacy.
Kelly's extensive career in financial services began in 1995 as a retirement plan marketing specialist with Edward Jones. Subsequently, she worked as a securities analyst reconciling collateralized mortgage obligations at GE Capital Mortgage, where she earned her Green Belt through their Six Sigma Quality Program. In 2000, she joined Enterprise Bank & Trust, serving in a variety of capacities including wealth management support, operations, finance, compliance and relationship management.


After receiving her Juris Doctorate from Saint Louis University, and passing the Missouri Bar Exam, Kelly joined HM Capital Management, LLC as an Executive Vice President and Director of Wealth Management, where she worked with clients and managed compliance. It's a position she held until joining Parkside in 2007. 

In addition, Kelly received her Master of Business Administration with an emphasis in Finance from Saint Louis University, and a Bachelor of Science in Business Administration with an emphasis in Finance from the University of Missouri at Columbia. Kelly is an active member of the Bar Association of Metropolitan St. Louis Probate and Trust Committee and Legal Services of Eastern Missouri. 

Our clients depend on Kelly to help them maneuver the complex world of tax and estate planning, while proactively addressing issues they may not be aware of, ultimately giving clients peace of mind that their finances are being expertly managed.